Date: Sunday, October 24th 10:00 am – 1:00 pm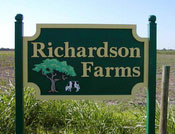 Location: Richardson Farms
Is pastured meat different? Better? More flavorful? And if so, why? Slow Food Austin is going to visit area expert livestock farmers Jim and Kay Richardson to find out.
The Richardson family has been farming for generations. On their Rockdale farm Jim and Kay Richardson raise wholesome meats in time-tested natural ways, grinding the corn grown on-farm for their pigs, raising their beef cattle solely on grass, pasturing chickens for eggs and broilers, and producing all-natural turkeys for area holiday tables.
October's cooler weather is perfect for savoring slow-roasted meats, and high time to reserve your holiday turkey! Tour participants will redeem their $20 tickets at the farm for a selection of the Richardson's natural pastured meats, and we'll see the farm and have plenty of opportunity to ask our hosts about their production methods and how best to cook their meat. Join us October 24 from 10-1.
Limited space remains, so please RSVP today to receive the ticket purchase link: betsyl@slowfoodaustin.org
There is another farm tour on the same day, right after the slow food austin tour of Richardson Farms.
The Brazos Locavores' October Farm Tour is planned for Oct 24th from 1pm-5pm at the Wild Type Ranch. The tour is free and they will be collecting donations to support the Milam County Food Pantry.
Check out their website for more information: www.wildtyperanch.com
Those who wish to attend are encouraged to RSVP at brazoslocavores@gmail.com The group will meet-up at Brazos Natural Foods (4303 S. Texas Ave in Bryan) and carpool out to the farm.