Date: Sunday May 15th, 11 am – 2 pm
Location: Pure Luck, Dripping Springs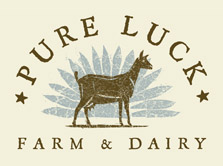 Slow Food Austin heads to Dripping Springs for a rare opportunity – an inside look at Pure Luck Farm and Dairy. This 100-goat Central Texas gem has been producing nationally award-winning goat cheeses for many years, and if you've perused any Austin cheese case worth its salt, you've seen their signature herb or pepper-crusted creamy chevre. Pure Luck no longer offers tours to the general public, so we're in, well, luck! Tastings and a little something to take home are included in the ticket price. Antonelli's Cheese Shop is supporting this tour and will contribute some tasty items as well. This one will go fast, so RSVP quickly to BetsyL@slowfoodaustin.org.