Date: Sunday August 14, 12 pm – 4 pm
Location: The Highball, 1142 South Lamar Blvd, Austin, Texas
Tickets: $15 purchase here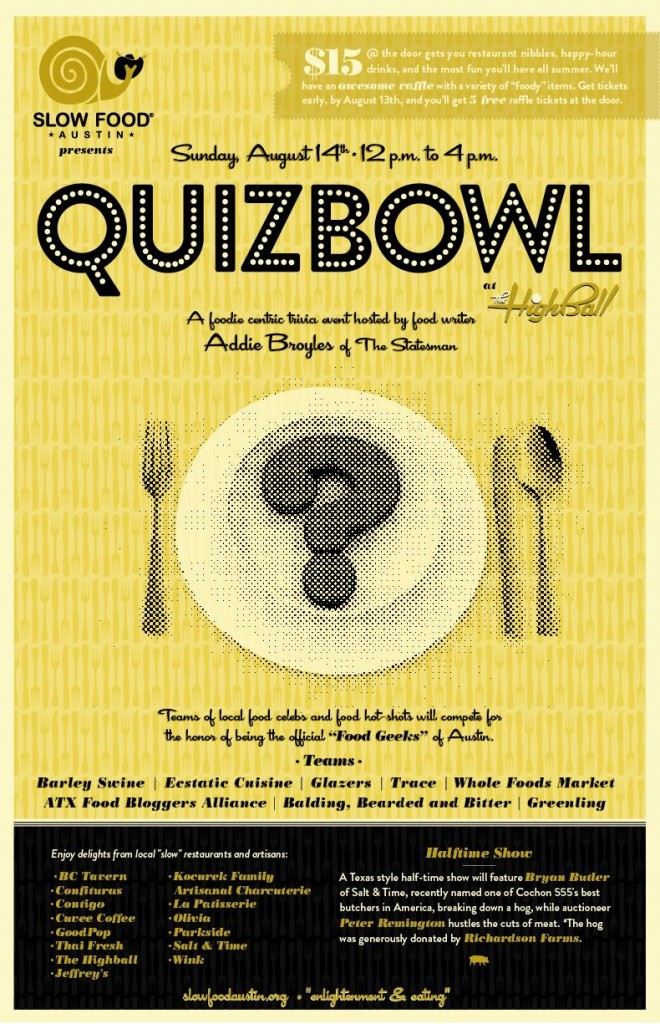 On Sunday August 14th from 12-4pm, Slow Food Austin will host a Quiz Bowl at The Highball. This trivia style contest (think game show) is not for the faint of heart. Teams comprised of local food celebrities and food hot shots, will compete for the honor of being the official "Food Geeks" of Austin. Teams include Glazers, TRACE, Whole Foods Market, Greenling, Barley Swine, Ecstatic Cuisine, Austin Food Bloggers Alliance, and Balding, Bearded and Bitter (Brian Stubbs, Josh Loving, Bill Norris, and Andrew McArthur).
The fast-paced, ruthless, all-in-good-fun, competition will feature questions developed by Addie Broyles of the Austin American-Statesman. Our teams will need to know their stuff about food history, cheese, food pop culture, beer and spirits, food artisanry, and foodie trends. You're bound to learn something interesting whether you are playing or watching.
While you're enjoying the atmosphere of the Highball and the excitement of the Quiz Bowl, you can taste delicious delights from local "slow" restaurants and artisans along with happy-hour-priced "slow" drinks from the bar. It gets better! We will also host a Texas style half-time show when Bryan Butler of Salt & Time, recently named one of the  Cochon 555 best butchers in America, will dress a pig and we'll have a not-to-be-missed live auction for the cuts of meat. Yes, we said a live auction for meat.
$15 entry gets you in the door including the restaurant nibbles, happy hour priced drinks, and the most fun you'll have all summer. We will also have a grand door prize and a variety of Slow Food-approved raffle items. Buy your admission ticket in advance, and you'll receive five free raffle tickets at the door. Buy tickets here: slowfoodquizbowl.ev?entbee.com/
What could be better on a hot August afternoon in Texas than to be at the trendy Highball enjoying a little healthy competition with friends and food?  Come meet some of the most amazing people in your food community- chefs, experts, visionaries, trend-setters, and treasures.  We want to honor the people who make our food community great by hosting an event that can make you laugh while you are doing the serious work of eating, learning, and showing your support for the local food system.
Restaurants and artisans include: Wink, BC Tavern, Confituras, Cuvee Coffee, Kocurek Family Artisanal Charcuterie, Parkside, Jeffrey's, Olivia, Salt & Time, Contigo, Thai Fresh, La Patisserie by Luxe Sweets, GoodPop, and The Highball.