Date: Sunday October 2, 2011 2 pm – 4 pm
Location: Richardson Farms, Rockdale, Texas
Ticket price: $20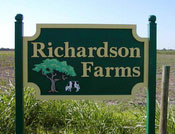 If you've had a pulled pork burger from Blackstar Brewery, a pork belly taco from Taco Deli or house-made sausage from Dai Due Butcher Shop, you've eaten Richardson Farms meats. The family-run farm has established itself as one of the best suppliers of locally raised, pastured meats in the Austin area.
Come with Slow Food Austin to learn first-hand what it takes to bring these delicious meats to your table. Jim and Kay Richardson raise cattle, pigs, chickens, heritage turkeys, ducks and rabbits on their 200-acre family farm. The animals are raised on pasture and grains the farmers grow and grind themselves on-farm.
The ticket price covers an equal value of meats or a deposit for your holiday turkey. Tour attendees are welcome to make additional purchases, so bring your cooler.  Children of all ages are welcome if under parental supervision. To RSVP and purchase tickets go to slowfoodaustinrichardsonfarms.eventbee.com.
Tour questions?  Email Grit at email@gritramuschkat.com.