The $5 Meal Challenge from Slow Food USA took place on September 17th, and the results are in. Stories from all around the country are listed on the Slow Food USA site.
The topic of whether eating fast food or junk food is really more affordable seems to keep appearing. For more information about costs of home-cooked meals, see also the recent article by Mark Bittman "Is Junk Food Really Cheaper?"
And, here's the round-up of $5 Meal Challenge dishes from right here in Austin:
Notes from Maggie's Farm created a full meal with sides and condiments:
Entree: Pozole
Sides: Roasted Corn  3 ways, Refried Black Beans,
Condiments: Fire Roasted Salsa, Pico De Gallo, Roasted Corn and Hatch Chile Relish with Queso Fresco, cilantro, jalapeno, cabbage, onion, avocado served with crispy tostada, or corn tortillas
Shelley of Franish Nonspeaker hosted a $5 Meal potluck and prepared a Fig and Jam Tart that was just $1 per serving.
Kate of A Bobo Mess made a Black Bean Feta Salad.
Lisa from Lisa is Cooking prepared a Vegan Cajun-spiced Dirty Rice dish to serve ten that came in just under budget.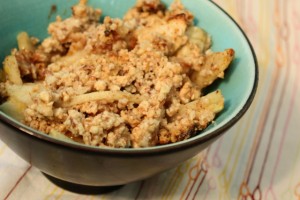 Kathryn from The Austin Gastronomist created a Zucchini Crumble for dessert that came in at 86 cents per serving.
The Whole Story blog from Whole Foods offered this great list of budget-friendly meals too.