Date: Wednesday, March 14th, 6:30 pm – 8:30 pm
Location: Habitat Suites Conference Room, 500 East Highland Mall Boulevard  Austin, TX 78752
RSVP: Please email Chelsea Staires at chelsea@slowfoodaustin.org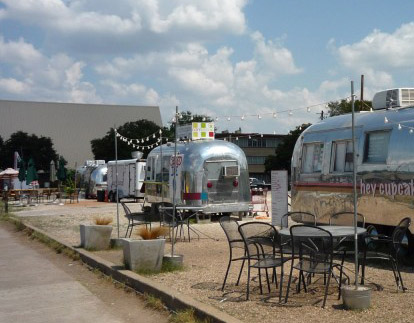 We know you love Austin's delicious and thought-provoking trailer food movement as much as we do.  So we invite you to join us as Tiffany Harelik, founder of Austin's wildly popular Gypsy Picnic and the force behind The Trailer Food Diaries (one of Culture Map's Favorite Austin Food Blogs) and TFD cookbooks, talks with us about what's keeping the trailer food movement rolling on full force.  This Slow Session will include discussion on:
What's happening with the food trailer phenomenon in Austin and across the US
What it takes to open and run a food trailer
How trailer food is different than restaurant food
How trailer food is actually Slow Food!
About Tiffany Harelik:
The dynamic 4th generation Austinite and Trailer Food guru Tiffany Harelik offers a fun blend of professional enthusiasm and sexy hometown charm that the broader foodie & locavore audiences will find both humorous and interesting. With her Masters' degree in Health Psychology, and a passion for sustainable health and green living, Tiffany is a strong advocate in eating locally, minimizing negative environmental impact and leaving the camp site a little better place than when she set up the tent. She has been engaged in a number of visionary projects and enjoys yoga, biking and playing with her foster dogs from the Heart of Texas Labrador Rescue. She also loves equestrian sports, cooking for friends, traveling and writing.
Tiffany is inspired by her great-grandfather Haskell Harelik who came to the states as a Russian immigrant and opened a banana food-cart in the early 1900's. Without speaking a word of English, he pursued the American dream one penny and one banana at a time. This entrepreneurial endeavor ultimately led to opening 5 general stores in central Texas called "Harelik's. She remains inspired by Haskell, whose ideas and work ethics allowed him to live his dreams while providing for his family and having a smile on his face even during the toughest of times.