Date: Wednesday April 11, 2012  6:30 p.m. – 8:30 p.m.
Location: Chef Sonya Cote's Urban Kitchen: 2104 Rosewood Avenue, Austin, Texas 78702
(It's a blue house on top of the hill just past Chicon as you are heading east from downtown.)
Recommendations for Parking:
Parking is available on Northwestern (free street parking)
The Learning Center parking lot on the corner of Rosewood and Northwestern
The Church parking lot on Rosewood and Coleto
Also, there is parking on Coleto St and Alamo – the two street surrounding the hill where the house is located
RSVP: Only 20 seats are available. Please email Chelsea Staires at chelsea@slowfoodaustin.org.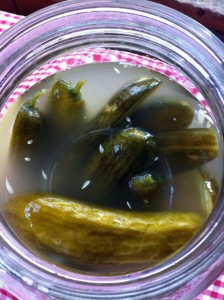 Spring and summer veggies will be coming up soon!  Come to our April Slow Session to learn how to put up some of the beautiful bounty from your home garden, neighborhood local farmers' market, or farm stand from Kate Payne, author of The Hip Girls' Guide to Homemaking and Austin's resident hip homemaker extraordinaire.
In this Slow Session, you'll learn the basics of refrigerator pickling, a quicker, convenient, less labor intensive way to store your fresh veggies and create delicious snacks, meal accompaniments, and gifts!  This method applies to cucumbers of course, but much more including zucchini, artichokes, eggplant, and peppers.
About Kate Payne:
Kate Payne is an author, grant writer, after-hours poet, occasional painter, committed doodler, drive-by trash collector, big-time procrastinator, tea, toast and jam obsessed Austinite. She collects old typewriters; some of them still work. She studied anthropology and sociology in the Sonoran Desert. She worked on a tomato farm once, and paper-mached gigantic thumbs once, too.
The creator of the Hip Girl's Guide to Homemaking website and book, Kate is the go to girl for domestic advice–an expert on hip home tricks, thrift stores, flea markets, and Craigslist, and a frequent consultant for design, decorating, cooking, crafting, and urban living sites–as well as an instructor in canning and pickling classes here in Austin, TX.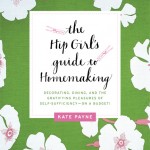 Kate Payne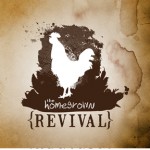 www.hipgirlshome.com
@hipgirls