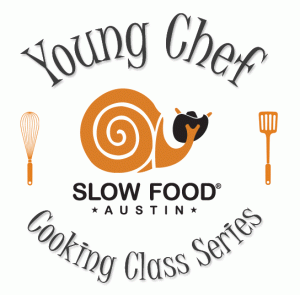 This summer, Slow Food Austin partnered with Central Market to offer the Young Chef Cooking Class Series which introduced seven to twelve year olds to kitchen fundamentals like shopping, prepping, cooking, and cleaning up. For each of our three classes, the Young Chefs prepared simple, nutritious, and tasty one-pot meals. We had a great time teaching the Young Chefs, and they had a great time cooking. Our other sponsors for this series of classes were Zinger Hardware, Breed and Company, and Le Creuset.
These are the recipes the Young Chefs prepared:
Magic Bus Hash Browns
2 eggs
1 cup hash brown potatoes or frozen home fries
1/2 cup shredded or grated cheddar cheese or your favorite cheese
4 strips of bacon (uncooked)
salt and pepper to taste
1. Pre-heat Dutch oven on low to medium for 5 to 7 minutes.
2. Place bacon in cook both sides until crispy, then remove. Keep renderings (oil from bacon) in the Dutch oven.
3. Add frozen hash brown to renderings. Stir frequently. Cook until potatoes are rusty.
4. Add eggs on top of hash browns.
5. Sprinkle cheese on top of hash browns.
6. Cover with lid cook 5 to 10 minutes until translucent eggs turn white or to desired doneness.
7. Once eggs are done remove from heat and serve.
Chicken and Vegetable Ramen
2 chicken thighs
1 bunch scallions
1 1/2 tsp garlic minced
1 1/2 tsp ginger minced or grated
1-2 oz soy sauce
1/2 tsp sugar
1 1/2 cup water
1 pkg Ramen noodles, flavor packet removed.
1/3 pkg bamboo garden frozen veggie medley
Garnish: Scallions, toasted sesame seeds, sesame oil, lemon wedges
*Throw away flavor packet.
1. Preheat oven to 350 F.
2. Heat Dutch over over mid-high heat for 5-10 mins. & toast sesame seeds for ~5 seconds. Remove and reserve.
3. Lightly season chicken skin only and cook skin side down till golden in color. Remove and allow to cool for at least 5 minutes before handling.
4. While chicken is cooling, cook ½ of the chopped scallions, garlic and ginger for 3-4 minutes with a pinch of salt, stirring occasionally.
5. Add water and bring to a boil, add sugar and cook for 20 minutes with the lid off.
6. Peel skin off chicken thigh and place seasoned side down on a folded piece of heavy duty foil and toast in 350 oven for 5-7 minutes until completely toasted. Mince once cooled.
7. Remove thigh bone from chicken, (throw away joint) season and add to pot.
8. Dice chicken into ½ inch pieces, season and reserve.
9. Once stock has boiled for 20 mins check for seasoning.
10. Add chicken pieces to stock and cook 1 minute with lid on.
11. Add ramen noodles (break the brick when you add it) & cook 3 min. with lid on.
12. Add bamboo garden veggies, cook another 1 minute with lid on.
13. Turn off heat and allow to sit for 2 minutes with the lid still on.
14. Garnish with scallions, sesame seeds, and a small pile chicken skin in the center of the bowl. Drizzle sesame oil around soup. Drizzle lemon juice around soup.
Peach Chili
2 Tbsp oil (olive, coconut)
1 large onion
6 garlic cloves
½ lb lean/natural ground beef
½ lb lean/natural ground pork
1, 16 oz. can whole San Marzano tomatoes
5 medium local peaches
1 ear Texas corn
1 box cornbread mix (Jiffy)
1/3 cup milk
1 cup water
Spices:
3 Tbsp sweet paprika
3 Tbsp ancho chile powder
2 Tbsp mustard powder
1 tsp cayenne chile powder
1 Tbsp ground black pepper
2 Tbsp salt
1. Heat Dutch over over mid-high heat for 5-10 mins.
2. Add 2 Tbl oil to the Dutch oven (coconut/olive/canola)
3. Add onions, sauté until translucent.
4. Add garlic, stir for 1 minute to lightly cook.
5. Add spices and "store" the spices, onion, and garlic
6. Add ground pork and beef, stir until well broken up and cooked well
7. Add tomatoes (with water), peaches, corn & water
8. Bring to a boil at high heat then reduce heat to low and simmer while you prepare the corn bread
9. Preheat oven to 350
10. Follow directions on the boxed cornbread mix or use your own recipe
11. Once chili is thickened to your liking, add corn bread batter on top
12. Cover and place in oven for 25-30 minutes
13. Let rest before serving, ideally 30 minutes but 15 minutes at the least.