Scholarship Deadline: Wednesday, March 27, 2013.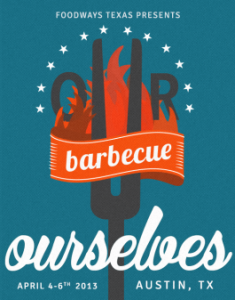 Slow Food Austin is excited to offer a full scholarship ($280) to the 3rd Annual Foodways Texas Symposium: Our Barbecue, Ourselves. The Symposium will be held in Austin, TX April 4-6.
Foodways Texas is an organization founded by scholars, chefs, journalists, restaurateurs, farmers, ranchers, and other citizens of the state of Texas who
have made it their mission to preserve, promote and celebrate the diverse food cultures of Texas. This year's Symposium will explore the past, present, and potential of smoked meat in Texas and its intimate connections to Texas cultural history and identity.
Would you like Slow Food Austin to send you to the Symposium? Please complete our scholarship application below and submit by Wednesday, March 27. The scholarship recipient will be announced on March 29.
For more information about Foodways Texas, visit their website: foodwaystexas.com.
Powered by

EMF
Survey
UPDATE:
Meredith Bethune was selected to receive the scholarship. Congratulations, Meredith!