Scholarship Application Deadline: Tuesday, January 21, 2014.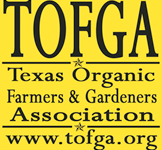 Slow Food Austin is offering two scholarships, each for a full conference pass ($225), to 2014 Texas Organic Farmers and Gardeners Conference in Houston on January 30 through February 2.  TOFGA supports the people who produce and provide organic and sustainable food in Texas and provides education and marketing support to the organic and sustainable producers of Texas.
For an opportunity to win a scholarship, please complete our application below and submit by Tuesday, January 21. Two scholarship recipients will be announced on Wednesday, January 22.
Powered by

EMF
Free Form Builder