Scholarship Application Deadline (Extended!): Monday, March 31, 2014.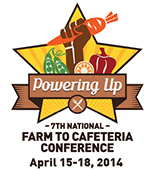 Slow Food Austin is offering one full conference scholarship to the 7th National Farm to Cafeteria Conference in Austin, April 15 – 18, 2014. "The National Farm to Cafeteria Conference: Powering Up will convene a diverse group of stakeholders from across the farm to cafeteria movement—more than 1,000 food service professionals, farmers, educators, youth leaders, policy makers, advocates, state/federal agency professionals, entrepreneurs, public health professionals and others—working to source local food for institutional cafeterias and foster a culture of food and agricultural literacy across America."
For an opportunity to win the scholarship, please complete our application below and submit by Monday March 31. The recipient will be announced on Monday, April 7th.
Powered by

EMF
Online Order Form