Date: Sunday, August 17, 12:00 pm – 4:00 pm
Location: Saengerrunde Hall, 1607 San Jacinto Blvd, Austin, TX 78701 (Free parking is available on Sunday in the state parking buildings across the street from Saengerrunde Hall.)
Tickets: General Admission – $25 Slow Food Members; $30 Non-Members purchase online
Team Registration – up to six members per team $200 register online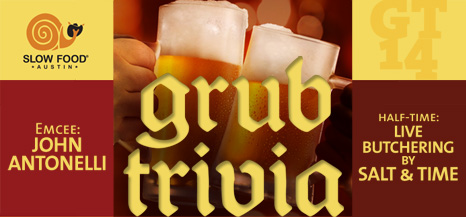 Whether you're a cooking connoisseur, a food-biz wiz, or gastronome novice, Slow Food Austin challenges you to join its second annual Grub Trivia fundraising event on August 17th at Saengerrunde Hall. Up to 30 teams will compete to win the surprise grand prize and the honor of being named the quickest slow foodies in town.
Emceed this year by John Antonelli of Antonelli's Cheese Shop, the food-focused, pub-style trivia game will also include round prizes; a "grub crawl" of tastings from more than a dozen of Austin's finest "slow" restaurants and artisans; happy-hour priced local brews, wines, and spirits; raffle prizes from local businesses; and its famous halftime hog butchery by Bryan Butler of Salt and Time Butcher Shop and Salumeria with cuts auctioned by Andy Langer.
Slow Food Austin will also present its Snailblazer Award to a member of the food community who has made a significant impact for the cause of "Good, Clean, and Fair Food."
COST FOR TEAMS: REGISTER ONLINE
2-6 Person Team* $200
[Team registration includes a reserved table for up to six team members, general admission for team members, and five raffle tickets for each team member. Additional raffle tickets will be available for $1 each. The raffle will include prizes from local favorites and artisans.]
*Ridiculous team names are encouraged.
See the Official Grub Trivia Competition Rules.

COST FOR GENERAL ADMISSION: PURCHASE TICKETS ONLINE
Spectator Ticket $25 Slow Food members; $30 non-members
[General admission includes our "Grub Crawl" of tastings from more than a dozen of Austin's finest restaurants, happy hour-priced drinks at the bar, and the opportunity to see who wins our Grub Trivia competition. Slow Food members will receive five raffle tickets at the door, and raffle tickets will be available for all attendees for $1 each. The raffle will include prizes from local favorites and artisans.]
So, mark your calendars, and get ready to test your nom-nom know-how.
The Grub Crawl tasting to include:
Anjore, Fino, Confituras, Wink, Red Rabbit Bakery, Countryside Farm, Antonelli's Cheese, Pogue Mahone Pickles, Easy Tiger, Kiskadee Chocolates, Cafe Josie, Black Star Coop, Oh Kimchi, Rockstar Bagels, Greenhouse Craft Food, Blackbird and Henry, Cake and Spoon, Dolce Neve, Thai Fresh, Blackbird Bakery, Kosmic Kombucha, Cuvee Coffee, Juiceland, Zhi Tea!
At the bar, we'll have:
Real Ale Brewing Company, Austin Beerworks, Banner Natural Vodka, Genius Gin
Cocktails by David Alan, The Tipsy Texan.
If you would like to volunteer to help at Grub Trivia, contact lisa@slowfoodaustin.org.