Scholarship Application Deadline: Friday, March 27, 2015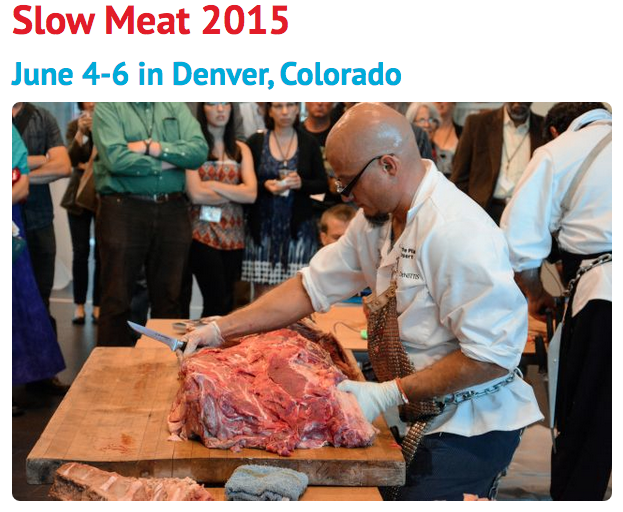 Slow Food Austin is offering a full scholarship to the second Slow Meat Symposium, June 4-6,  in Denver, Colorado. This Slow Food USA event will bring together leaders in sustainable meat production from across the country to discuss current practices in sustainable meat and to develop strategies for the future of good, clean and fair meat production and consumption.
The event will include opportunities for networking, peer learning, and breakout discussions. The symposium delegates will also collaborate to establish a set of recommendations for organizations, businesses, and individuals interested in making more sustainable meat choices. Therefore, the scholarship recipient should expect to be an active participant throughout the symposium.
The full schedule will be available soon. For additional information please visit the 
Slow Food website
.
The scholarship recipient will represent Slow Food Austin as the chapter's designated delegate*. The scholarship will cover the full cost of registration and include a stipend of $500 for travel and lodging. The scholarship recipient will be reimbursed upon receipt of purchase of travel and lodging.
For an opportunity to win this scholarship, please complete the application below by Friday, March 27.The scholarship winner will be contacted directly by Slow Food Austin. If you have any questions about this opportunity please contact Hannah Kane, Scholarships Coordinator (
hannah@slowfoodaustin.org
).
*The Slow Food Austin Scholarship for Slow Meat is independent of the Slow Meat Symposium Delegate application found on the Slow Food website. Applicants for the Slow Food Austin Scholarship to Slow Meat will be evaluated by the Slow Food Austin Board. The Delegate Application for the Slow Meat Symposium through Slow Food USA does not cover any costs and applicants will be evaluated by the national Slow Food office.
Powered by

EMF
HTML Contact Form