Scholarship Application Deadline: Friday, March 11th, 2016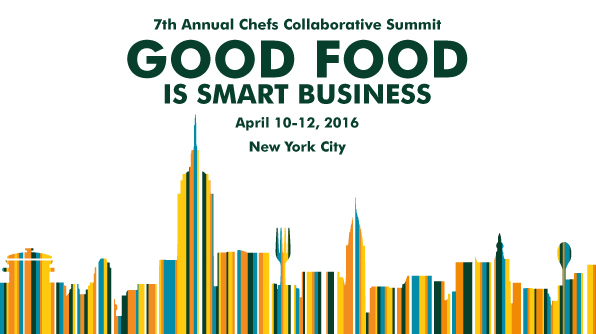 Slow Food Austin is offering one full scholarship to the Chefs Collaborative's 7th Annual Summit taking place April 10-12, 2016 in New York City. This three-day conference brings together hundreds of chefs and food industry professionals for the opportunity to connect and discuss good, clean, fair food with over 50 top food leaders from across the country.
The schedule is packed with good meals, and talks and discussions led by prominent chefs, farmers, investment professionals and more. The full schedule is available here. For additional information about the Summit, please visit the Chefs Collaborative website.
The scholarship will cover the full cost of registration and includes a stipend of $750 for travel and lodging. The scholarship recipient will be reimbursed upon receipt of purchase of travel and lodging.
For an opportunity to win this scholarship, please submit a completed application below. The deadline for submissions is Friday, March 11. The scholarship winner will be contacted directly by Slow Food Austin.
For any questions about this opportunity please contact Hannah Kane, Scholarships Coordinator (hannah@slowfoodaustin.org).
Powered by

EMF
Online Form Builder