Date: Sunday, October 23rd, 3:00 pm – 5:00 pmLocation: Johnson's Backyard Garden, Garfield Farm 4008 River Rd, Cedar Creek, TX 78612
Cost: $25 for Farm Tour, Snacks, and Take-home Vegetables — $15 for Farm Tour and Snacks only (children 10 and under free)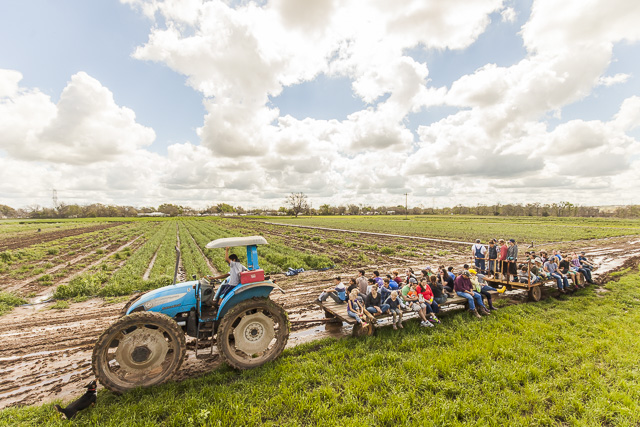 Come out to Johnson's Backyard Garden Garfield Farm for a fun, fall, farm tour. We'll tour the farm on flatbed trailers pulled by a tractor and learn about the organic growing techniques used here.
After the tour, snacks will be provided by Snooze, an A.M. Eatery, and the menu will include:
Havana Daydreaming Bite- 
Braised Pork, sliced tender belly ham, swiss cheese, homemade pickles topped with Dijon mustard and cream cheese hollandaise, served open-face on toasted ciabatta bread
Lower East Side Bite- 
Herbed goat cheese spread, smoked salmon, sun dried tomato caper relish, on toasted pumpernickel
Caprese platter- 
Cherry Heirloom Pesto Salad, vine-ripe tomatoes, mozzarella cheese, balsamic reduction
Attendees are welcome to bring any beverages you'd like, and water will be available.
While the snacks are served, we'll hear from our Austin Terra Madre Salone del Gusto delegates, including Brenton Johnson, about their experiences at this international food conference that just took place in September.
Guests will each take home a bag of freshly harvested vegetables from the farm. (Ticket options are available with and without the take away vegetables.)
Please purchase tickets online in advance for this farm tour.
Note: The farm is located at 4008 River Road, Cedar Creek, Texas. Look for a white plywood sign on the left with "4008" painted on it. Drive towards the large white cooler (can't miss it!) and park near there. Please drive slowly down the farm roads; bugs love the dust that speedy driving stirs up!