Date: Thursday, June 8, 6:00 pm – 8:30 pm
Location: Springdale Farm, 755 Springdale Rd, Austin, TX 78702
Tickets: $85 dinner, $20 take-home tomato basket option, $10 take-home tomato basket option Please purchase online in advance.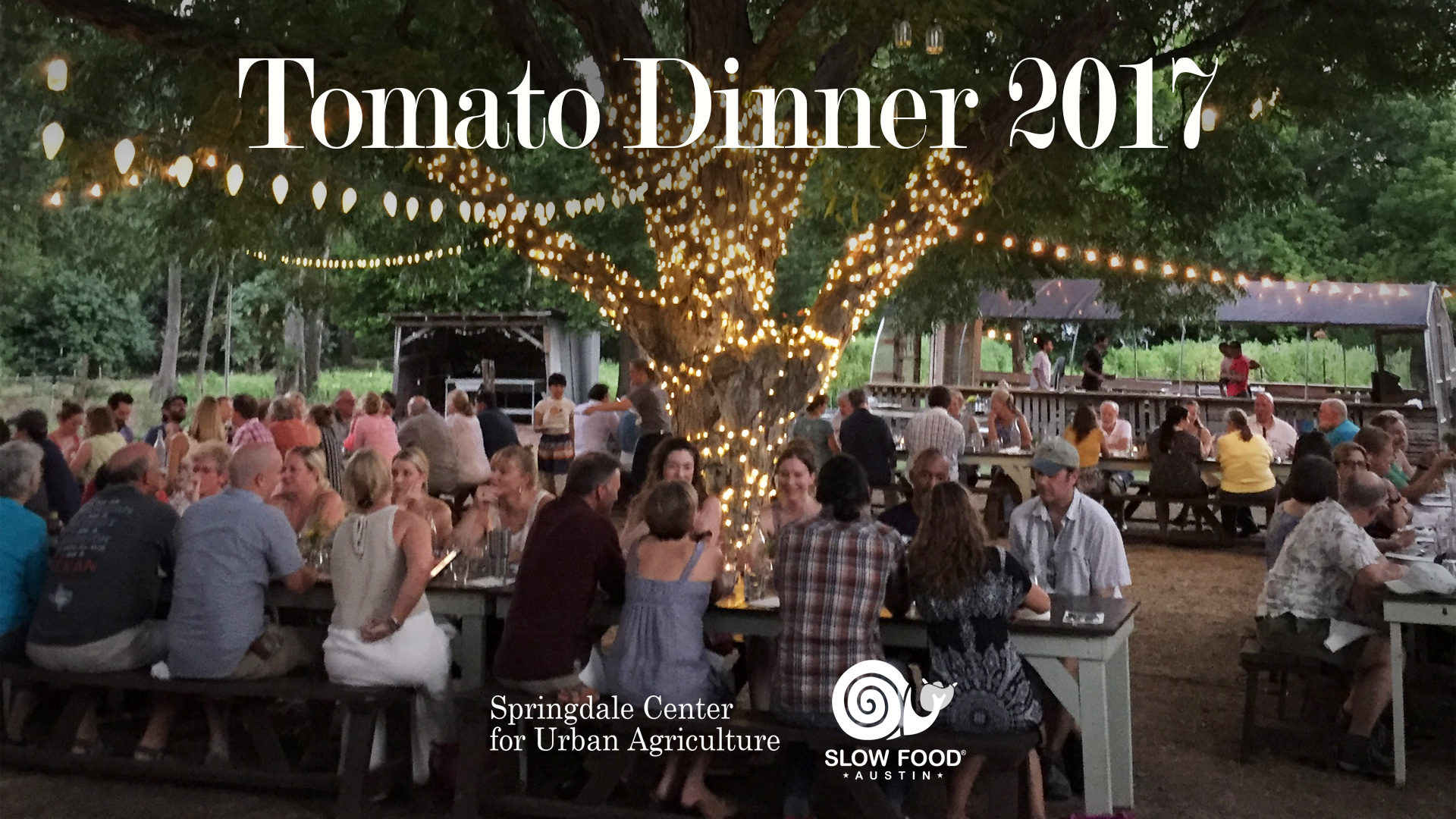 Come to Springdale Farm to celebrate tomato season on June 8th. Our Annual Tomato Dinner, benefiting Springdale Center for Urban Agriculture and Slow Food Austin, will highlight a variety of types and preparations of home-grown tomatoes from the farm. The evening will begin with a seasonal cocktail and appetizers, followed by entree courses and a plated dessert. A selection of wines from the Slow Wine Guide, all from Italian producers who make quality wines with respect for the environment, biodiversity, traditional grape varieties, and their local areas, will be included with the meal.
Participating chefs and artisans include:
Alejandro Munoz, Apis
Bryce Gilmore, Barley Swine
Brewer's Table, Zach Hunter
Stephanie McClenny, Confituras
Sonya Cote, Eden East
Emmer and Rye, Page Pressley
Taylor Chambers, Justine's Brasserie
Kristine Kittrell, Weather Up
Abby Love, Dai Due
Gates will open at 6:00 pm when passed appetizers and cocktails will be served. The seated dinner will begin at 6:30pm.
Vegetarian options are available upon request. Please include request in comments with ticket purchase. No other substitutions or changes to the menu are permitted.
Thank you to Antonelli's Cheese Shop for providing burrata cheese for the event.
Special thanks to our event sponsor: Whim Hospitality.