Slow Food Austin is excited to offer a full scholarship ($200) to the 2013 TOFGA Conference, February 7th – 10th at the Austin Airport Hilton.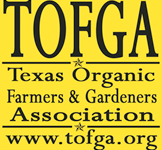 The Texas Organic Farmers and Gardeners Association (TOFGA) is a non-profit organization that provides education and marketing support to the organic and sustainable producers of Texas. TOFGA's annual conference in Austin is a great opportunity for education and networking for farmers, ranchers, educators, and gardeners – and consumers, too!
Sessions at this year's conference include: Growing a Neighborhood Farm, An Introduction to Wild Edibles, Organic Vegetables All Winter, Homeopathic Livestock Care, What's That Label Mean?, and many more.
Would you like Slow Food Austin to send you to the conference? Send us an essay of 150 words or less, telling us why you'd like to attend the conference and how you'll share what you learn there with the Slow Food board and its members. Be creative!
Essays should be emailed to Cindy Scovel (cindy@slowfoodaustin.org). Entries must be received by 5PM CST on Monday, January 28. The scholarship recipient will be announced on February 1.
For more information about TOFGA, visit their website.