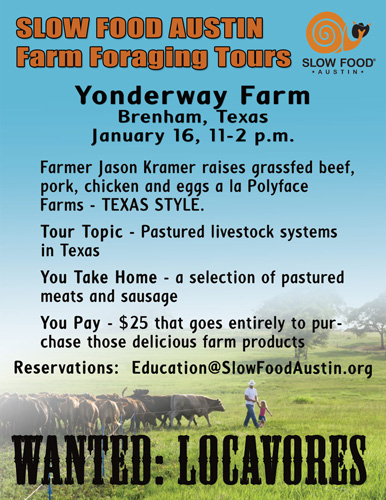 Saturday, January 16, 2010
11am – 2pm
Yonder Way Farm
Tickets: $25 single/$40 couple/family (includes sampling of farm product (i.e. meat, produce, etc.)
Slow Food Austin (SFA) Farm Tours offer a signature opportunity to forage food items directly from area farms, in the context of an informative tour showing how and where the items were grown or produced, and introducing the people that produce them.
Goals of Tours:
* Increase understanding of the contributions area farmers make to our local food community
* Offer opportunities to sample local foods
* Increase understanding of Slow Food Austin's goals to promote our local food culture and encourage conscious and appreciative enjoyment of it
* If possible, provide food for thought – novel discussion topics and angles on local farming
SFA is launching our farm tours with a bang – come with us on January 16 to meet Jason Kramer of Yonder Way Farm, an ambitious and exciting operation along the lines of Joel Salatin's pastured salad bar beef farm, Polyface. Jason raises pastured pork, beef, poultry and eggs, and is completing construction of an on-farm commercial kitchen from which he plans to serve barbecued pork, sausages and other eatables. In the best farming tradition of cooperation, Jason also offers organic produce and milk from two other neighboring farms.
Yonder Way Farm [directions]
5500 Hwy 105
Brenham, TX 77833 (1 hour 45 min from Austin)
Tickets are SOLD OUT.
The tour carpool will leave Austin at 9am on January 16 (depature location TBD). Expect to return to Austin by 5pm
For more information, send an email to education@slowfoodaustin.org.